Midland, TX | 7.31.21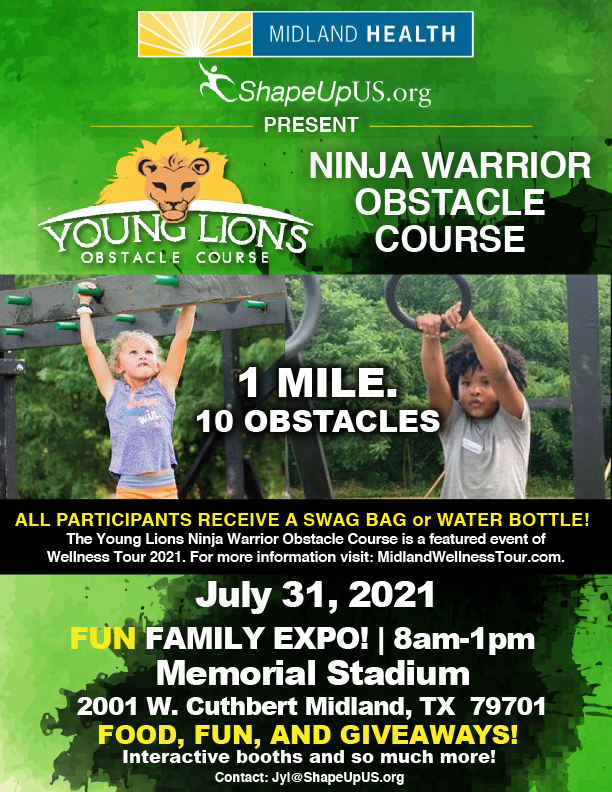 Register Now!
EVENT INFO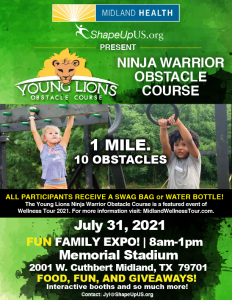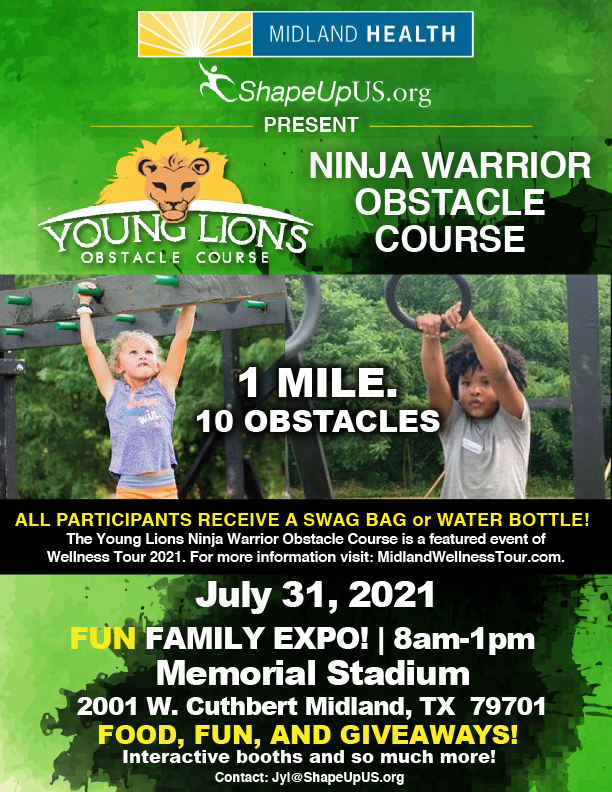 Registration for Obstacle Course starts at 7:30 am
Shape Up Us Health and Wellness Expos are leading a national movement to improve the health of our communities by stemming the tide of heart disease and obesity by educating communities on healthy eating and living.  Shape Up Us expos have been hosted in dozens of cities throughout the nation going back to 2009.  In 2021 there will be ten events in select cities to revitalize this important conversation as our communities are opening back up. Each Health & Wellness Expo is designed to promote mind and body wellness, create awareness and educate the public about the prevention of heart disease, all while providing a day of fun for the entire family.  As a featured attraction at the expos, Shape Up Us has partnered with Young Lion™. the nation's #1 Youth Ninja Warrior Obstacle Course.  Young Lions OCR™ is an EPIC ninja warrior style obstacle course for youth ages 5-17. Participants will run, jump, crawl, climb, and swing for approximately 1.25 through 10 signature Conquer Youth™ obstacles.
FINAL DETAILS
We encourage kids to run as many laps as they want and most families spend around 2 hours at the event. Waves run every 20 minutes from 9 am until noon and the course closes around 1 pm. We'll generally have food vendors or you can bring your own and make a picnic out of it! Parents are encouraged to accompany their kids through the course to assist, take pics, and cheer them on! We'll always have water and swag packs at the finish line!
SHAPE UP US
In addition to our Ninja Course, we are proud to partner with Shape Up US to provide a family fun festival at no additional cost! The festival features inflatables, games, interactive booths, cool off stations, and much more! Shape Up US is committed to improving the health, fitness and well being of America's families through comprehensive wellness education programs. Reach out if you'd like to be involved!