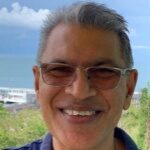 Alnoor is a real citizen of the world, and a very experimented Businessman and Investor, who has work in many industries during his 35+ years career.
From the Successful CEO and founder of Shikatronics in the 90s-00s to the founding of Bentilia Superfood and Healthcentric AI he has been involved in many industries including clean energy, electronics, wholesome food, and disruptive technology.
He is very skilled in creating new opportunities for others and himself, especially those who require creative thinking, making a difference with a futuristic approach.
Featured in the profit 100 in Canada, and winner of the top award in the province of Quebec, he has always been a humble visionary, able to see opportunities years before they happen, always happy and grateful to share, collaborate and help his surroundings.
His involvement in both the Plant-Based Food and Life style medicine led him to co-found Healthcentric A.I with the brightest minds and hearts is showing his flair and commitment for future successful ventures.
Alnoor is on a mission to improve the world via food, education and technology while helping humans, enterprises, NGO to evolve themselves into their best-self, and never refuse to help someone on the same mission.
He is involved in many charities and has worked as a volunteer all around the globe, to be helping future entrepreneurs to jump and create their dreams. He is always saying that he loves to be creating a space for people to reinvent themselves into the entrepreneur they are meant to become.
Alnoor commitment with Shapeupus.org is to introduce child nutrition and empowerment around the globe.