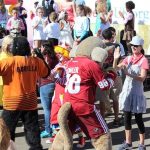 Clap4Health℠ is a unique cardiovascular disease and obesity prevention campaign that promotes physical activity through clapping. What could be easier? This program partners the feel-good activity of clapping with dance and exercise to encourage kids to engage in physical movement.
Designed by Shape Up US, Clap4Health℠ is an activity in which anyone can participate. We clap our hands to show happiness and appreciation. Clapping makes us feel good! But did you know, in conjunction with other types of movement like dance and sports, it can improve motor and spatial skills and enhance emotional, sociological, physiological and cognitive benefits.
Download the Clap4Health℠ Fitness Song music MP3
Clap4Health℠ Instructional Video
Thank you to Leslie Hicks and her students from Knox Elementary School for participating in the Clap4Health℠ instructional video!
Download the Clap4Health℠ music MP3
View more Clap4Health℠ videos.
Shape Up US Wants Your Videos!
Shape Up US wants YOU (your school, after-school program, family, dance team, sports team, hip hop group, etc) to upload YOUR video.
Clap4Health℠ Official Rules and Regulations
Clap4Health℠ Photo Release Form
How to Send Us Your Video:
Upload your photo on YouTube.com (Don't have an account? Create one here.)
Once uploaded go to your video. Underneath you should see a link for Share > Share this Video. Copy the link and send it to us (The link will look something like this http://youtu.be/76PD5PVAB1g).
Have Fun! Be Creative! Clap4Health℠
Consent and Release
I release, discharge, and hold harmless Shape Up US and its respective board members and sponsors from and against any and all claims and liabilities based on or arising out of the use, reproduction, transmission, display, publication or performance of the Works as authorized by this consent and release, including, but not limited to, any claims of libel, defamation, invasion of the right to privacy or infringement of the right of publicity.
I relinquish and assign to Shape Up US all of my rights, title, and interests in and to the Works, including all copyright rights. I waive any right to inspect or approve the Works or any work product in which the Works may be used.
I warrant that I have the right to enter into this agreement, I am over the age of majority, that I have read this consent and release prior to its execution, and that I understand and agree with its terms.