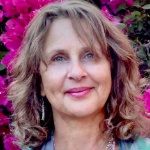 Elizabeth Welles is a writer and storyteller, an artist and teacher, a healer and guide. She is the author of Journaling for Well-Being & Peace and Women Celebrate: The Gift in Every Moment. She created the CD/mp3, Meditation for Relaxation, the sleep package, Sleep, Rise N Shine, and the online course about resting, How to Rest: A Loving Guide for the Wearied, the Anxious, and the Grieved.
Also a visual artist and storyteller, she has performedin a variety of venues from NY to LA, on stage, in television, film, and on the radio. As a speaker, she shares her thoughts on The Four Wisdoms of Creativity, stress reduction, journaling, and grief.
Appreciative Inquiry, Compassionate Communication, a lifetime of meditation, an indescribable "it" factor and a quirky sense of humor come together with Elizabeth's innate intuitive creative sensibility to serve her clients and audiences. She is an artist with the tools of healing, and the true spirit behind her work is to listen deeply, (and laugh deeply) to alleviate suffering in the hearts of the people she meets, inspiring creativity, laughter and peace.