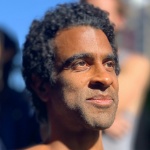 Obi Ndefo is an actor, writer, director and arts education advocate. Devoting his life to storytelling and the power of the arts, Obi has chosen to thread his Nigerian and Jewish-American roots into a life-affirming, kaleidoscopic exploration of multiculturalism and human awareness. The goal: Unity.
After a diverse upbringing in Los Angeles, California, Obi embarked upon his undergraduate degree in psychology and theater at Yale University, then remained in New Haven, Connecticut for his Masters degree in acting at the Yale School of Drama. Obi began in-depth work as an actor, crafting impactful roles on television (three seasons on "Dawson's Creek," three seasons on "Stargate: SG-1," along with pivotal roles on "Star Trek: Deep Space 9 & Voyager," "The West Wing," "The Wayans Brothers," "The Jamie Foxx Show," along with pilots for CBS, NBC, and ABC, and culturally relevant portrayals in film and theater). Obi is the founder of the arts education non-profit and multicultural content collective Arts Alliance for Humanity, bringing artists together from around the world to unite and uplift the planet.
Obi is currently in preproduction as lead writer on two groundbreaking multicultural television series, entitled "Juice Bar," a magical comedic satire centered around spirituality and the global organic food and health movement. And "Dream Big," a cinematic journey into the lives of ordinary people with extra-ordinary abilities.
After teaching his regular yoga class and shopping for health food in Los Angeles, Obi was struck by a hit-and-run drunk driver, severing his right leg above the knee, and resulting in the same amputation of his left leg thirty minutes later at the hospital. Having miraculously survived the collision, then having rehabilitated through yoga and natural foods, Obi Ndefo has only deepened his commitment to inclusion and unity by immediately returning to his television and film content creation, and taking on new acting, writing, and directing roles in his new body.