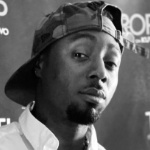 When DJ Cavem coined the term eco-hip hop in 2007, he didn't know it would sprout into a global movement. His mission to rap about climate change, food justice and plantbased foods spread far beyond his Denver hometown. Having performed at the Obama White House and been featured in Oprah Magazine and on the Rachael Ray Show, Dr. Ietef "DJ Cavem" Vita became known as more than just a rapper — but an activist, educator and vegan chef. Now, several years after the release of The Produce Section, his award-winning album that fused hip hop with lessons on eco-friendliness, Cavem has shifted his focus to new material. "I want people to understand that one of the best ways to make an impact on the environment is being more conscious of what we eat and understanding that our everyday food choices impact the environment in a positive or negative way."
From an early age Cavem has had a deep connection to environmental activism and food justice. Raised in Denver's Five Points district, often referred to as the Harlem of the West, his interest for gardening and hip hop helped him resist the snares of gang lifestyle. Becoming vegan at age 14, he said he felt a calling to speak about these issues in his songs, "especially since most of the neighborhoods considered food deserts were people of color." His 2007 debut single "Wheatgrass" with rapper Stic.Man of Dead
Prez hit top ten on the charts in Spain and introduced him to the public as an OG (Organic Gardener). It led to his 2010 debut album The Teacher's Lounge, followed by 2012's The Produce Section, which featured collaborations with Speech from Arrested Development, Drummi Zeb from The Wailers, and Sa-Roc. Part album, part curriculum, The Produce Section offered lessons on organic gardening, plant-based recipes and alternate uses of energy.
DJ Cavem has traveled the world as both a performing artist and an educator. He's shared the stage with Nick Jonas, Public Enemy, 2 Chains, Questlove, Wyclef Jean, among others. Offstage he's involved with numerous organizations and projects dedicated to promoting wellness, eating healthy and environmental awareness. With his wife and collaborator Arasia "Alkemia" Earth, the pair inspire and educate around the world including communities in countries such as Azerbaijan through workshops and speaking engagements. They formed a non-profit organization called the Vita Earth Foundation, which hosts health and wellness summer camps, Culinary Concerts, and their Recipes for Resistance workshops, which focuses on culinary climate action.