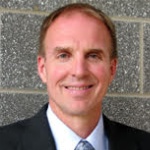 Based on what transpired in a few short moments in early 2006, Coach Jim Johnson is now an authority on the subject of realizing your dreams. In his many public-speaking appearances, the Rochester, New York resident relates his role in a basketball game that got Hollywood calling. He also emphasizes the importance of teamwork and sportsmanship, delivering his talks with a heartfelt style that has brought audiences to their feet.
Coach Johnson has developed winning high-school basketball teams for 30 years, taking over three losing varsity programs and turning them into winners in short periods of time. Of his 407 career victories, one in particular will surely never be duplicated.
On Feb. 15, 2006, Coach Johnson made the kindhearted gesture of inserting his autistic manager, Jason McElwain, now known to the world as J-Mac into Greece Athena High School's final home game, which the Trojans won 79-43. J-Mac scored 20 points in just over four minutes, including six three-point baskets, to become an instant national celebrity. Coach Johnson, also, was featured in major news outlets around the country.
To make the Hollywood ending complete, Greece Athena captured the first Section V title of Coach Johnson's career a few weeks later. A second sectional crown followed in 2007, and Coach Johnson then coached the Trojans to their third straight league title in 2008 by posting a perfect 12-0 record in league play, netting Coach of the Year honors.
Coach Johnson has made a number of radio and television appearances, including the Oprah Winfrey and Jim Rome shows. In 2006 he met President George W. Bush, Governor George Pataki, and Senator Hillary Clinton, to name just a few luminaries. The Athena team was also paid a visit at school by NBA legend Earvin "Magic" Johnson. J-Mac's magic moment won the ESPY for "Best Sports Moment" at the ESPN awards show later that year.