Purchase the Modules
Videos
Click on Playlist below to view videos individually.

This module invites students to think green. It introduces key concepts related to gaining knowledge about, respecting and protecting resources like air, water, soil and energy producing materials at home and around the globe.
Introduction
Unit 1: Think Green!
Unit 2: Respect and Protect
Unit 3: Air Aware
Unit 4: Water Wise
Unit 5: Power Up!
Unit 6: Green Thumb Gardening
Unit 7. Green Healthcare – You are What You Eat
Photo Gallery
Arizona school program promotes healthier living
Christopher Latella, 12 News 8 a.m. MST July 6, 2015
Stanfield Elementary School turning to new wellness curriculum to foster healthier students.
The Hip Hop Healthy Heart Program for ChildrenTM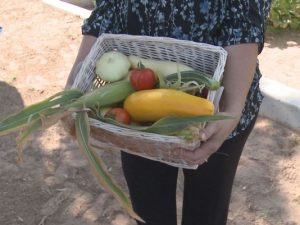 (Photo: Christopher Latella, 12 News) 2 TWEET
One Arizona school is leading the pack when it comes to providing nutrition to its students, an achievement that will be boosted this year as the school adopts a new, healthy curriculum.
Stanfield Elementary School has achieved the Gold Award of Distinction by the USDA Healthier School Challenge, a program that awards schools for their promotion of nutrition and physical activity.
Aside from a robust Physical Education curriculum, Stanfield Elementary has installed a school garden, that is meant to teach their students about the importance of both eating healthy and enjoying what they eat.
"What we believe, here at Stanfield, is that it is important that we educate the whole child, that we teach them about health and wellness," Said Stanfield Elementary School Principal Dr. Chris Lineberry. "What we found as a staff is that when the kids get to pick what they planted, they are much more excited about being able to eat it."
Every day, students and their families tend to their garden. Foods such as cucumbers, tomatoes, corn and watermelon can be found sprouting in the newly built garden bed.
To help teach students on the fundamentals of healthy living, Stanfield Elementary will incorporate a new curriculum this coming school year: "The Hip Hop Healthy Heart Program."
The program is a teaching tool for educators to promote wellness by using art, music and positive thinking to teach children healthy living skills.
"What I really liked about the Hip Hop program was that it didn't just focus on health," Lineberry said. "It looked at common CORE, it integrated content from across the curriculum and health together to build more interdisciplinary instruction and opportunity for our teachers."
Lineberry noted that whenever a teacher can show how learning one lesson can directly impact a student's life in multiple ways, that lesson is always taken to heart.
"We as educators know that when we tear down the interdisciplinary walls and we link content from various content areas together, that we can enhance learning. We can make it more real," Lineberry said.
Creating their own garden and the positive effects on the community is just one lesson that his students will focus on this coming school year. The Hip Hop Healthy Heart Program is made up of eight modules. The garden that Lineberry and his students enjoy so much will help his staff and him teach the module titled "Join the Green Team," which focuses on sustainability and conservation of natural resources. The lesson also teaches kids that "they are what they eat."
"We'll have kindergarteners, who by the time they're in eighth grade, will have been involved in the school garden for nine years," Lineberry said. "My hope is that as a result of that, along with the education they are receiving, will help them live longer, healthier lives."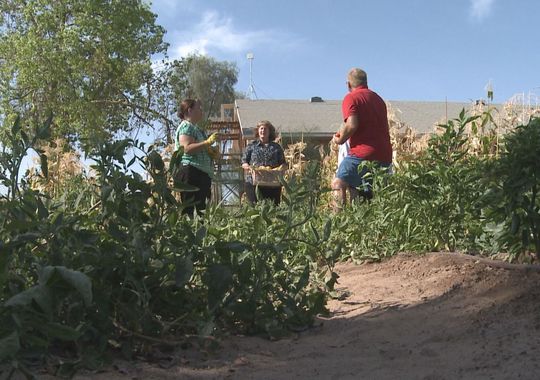 Staff members at Stanfield Elementary School pick out some fresh fruits and vegetables from the school garden. The garden is part of the school's promotion of wellness. Stanfield Elementary adopted a new curriculum for this coming school year that focuses on healthy living. (Photo: Christopher Latella, 12 News)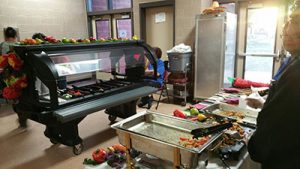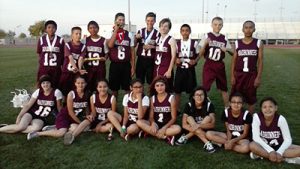 Chris Lineberry, Principal of Stanfield Elementary School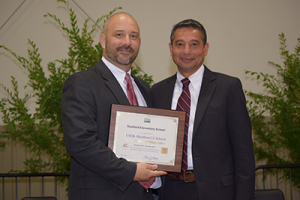 I have been an educator since graduating with my B.A. in English from The University of North Carolina at Charlotte in 1994. I have taught high school English 9, Sports Medicine, and Physical Education. In 2003 I received my Masters in School Administration and began to work on my doctoral degree. In January of 2005 I became the principal at Richfield Elementary School, a small K-8 school in rural Stanly County, NC. Armed with data on 4th grade students, 44% of whom had BMI rankings in the 85%ile or above, I threw the sugary, highly caloric foods out of my cafeteria, implemented an hour of physical activity daily for students, and required staff to integrate health and wellness into the curriculum. Richfield Elementary achieved 3 years of academic growth in a two year time period. The results earned my staff the North Carolina Prevention Partners School of Excellence award in 2007 as well as the designation as a School of Distinction, ranking Richfield Elementary in the top 10% of schools in North Carolina. I served as the principal of Jack W. Harmon Elementary School in San Tan Valley, Arizona for three years before taking a position as the Principal of Florence Virtual Academy and the director of Project IMPACT FUSD.  Project IMPACT FUSD is an initiative by Florence Unified School District to address and improve student and staff health. Currently, I am the principal at Stanfield Elementary School in rural Pinal County, AZ.  We have become the first school in Arizona to ever receive the Gold with Distinction recognition in the United States Healthier Schools Criteria program sponsored by the USDA.  Out of over 100,000 schools nationally, only 366 have ever received this award.  In addition to my duties in the, I am also the Co-Executive Director of the the 'nPLAY Foundation, an organization of 23 professional athletes from 13 different sports, chaired by Jennie Finch and Grant Hill, united to combat obesity in America's children.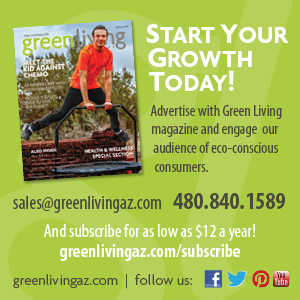 Read our latest issue: issuu.com/greenlivingaz/docs/glaz_2015-05
View our media kit: greenlivingaz.com/wp-content/uploads/Green-Living-Media-Kit-2015.pdf
Sign up for our emails: madmimi.com/signups/124524/join
Follow us: facebook.com/greenlivingazmag | twitter.com/greenlivingaz
linkedin.com/company/green-living-az-magazine | pinterest.com/greenliving