David Anson Russo to Launch His New "What A Great Life" Collection in DeRubeis Fine Art Gallery
Original Painting on Canvas – Created By David Russo – $7,5000 or best offer – Donations go directly to:  Shape Up US  "Building A Healthier Future for Our Children"
Size:  4′ by 6′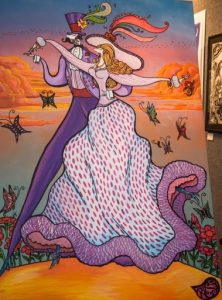 DeRubeis Fine Art Metal | 7171 E. Main Street, Scottsdale, AZ 85251

Scottsdale AZ – Owner Phillip Sacks announces David Anson Russo, one of the world's premier interactive artists will debut his new style, "What A Great Life" at DeRubeis Gallery March 26th through March 28th w/the grand opening event to be held Friday evening March 27th.
Russo, a Los Angeles-based artist, will be creating a full-size, original acrylic painting on canvas at the opening event. Guests will enjoy cocktails and hors d'oeuvres as they watch this piece come to life. Russo will also be available to sign and personalize pieces he will create at the event.
Russo has been capturing the attention of the creative community since the early 90's when he signed the largest book deal for a first time author in Simon & Schuster's history, an 11 book deal across two divisions. The book artwork jettisoned over 25 licensing deals and 80 product designs featured his work worldwide. Museums and TV shows featured Russo's works and invited him to appear on air, including an appearance on QVC. His "Absolut Amazement" ad was one of the most popular and largest in the Absolut Vodka Artist series and MAD Magazine asked him to create a cover portrait of Alfred E. Newman for their coveted 1993 Collector's Edition which completely sold out. Russo's interactive art has been touring museums for decades.
In 2010 Russo completely changed artistic directions as his pen & ink drawing as he sat at restaurant tables in Malibu attracted crowds of people and celebrities standing around him as he drew. They witnessed the birth of his charming characters from a different time representing all that is positive and joyful in life. The style, to be named "What A Great Life" was born (WAGL).
Commissions began to pour in, as WAGL Animation was started to create an online animated greeting card company-presently in development. Russo's Manager of 25 years, David Goldman said "The acceptance for this new style has been meteoric. We now have on board a company producing a line of products featuring the WAGL designs, some of the top producers of animation and sound in Hollywood on our team, and a fan base that includes many A-list celebrities. We are so thrilled to be teaming with Phillip Sacks' gallery and his vision to introduce Russo's WAGL works with me throughout the country."
Russo has also been creating and selling TV shows as an Executive Producer in Hollywood since 1998. Over the years he has developed projects with Mark Burnett, Paula Abdul, Magic Johnson, Marty Erlichman, Jill Wagner, and Donald Trump.
Since the early 90's, Sensei Russo has had a dojo on Maui, Goshin Tsugiashi Do Jujitsu Intoku. He is a 4th degree black belt in ju-jitsu and avid cross trainer.
To see/learn more please visit: www.whatagreaatlife.net a noted author and television producer.
Russo also has a passion for helping prevent obesity and contributing to empower children and families to lead healthier, happier lives. Shape Up Us, a 501c non profit corporation was awarded the 2014 Community Leadership Award and David will be painting "live" to help raise money for Shape Up US to provide educational tools to create healthy, lifelong habits to improve their overall wellness with a focus on cardiovascular health, physical exercise, nutrition and mental and emotional well-being. He is honored to help them accomplish their mission, Building A Healthy Future for Our Children".